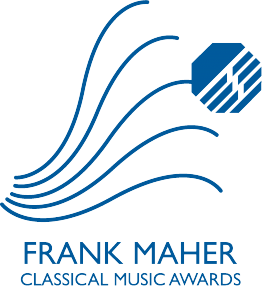 UPDATE 05.08.2020:
Top Security is delighted to announce that the Frank Maher Classical Music Awards will be taking place this year. It will be run subject to prevailing Covid-19 protocols and this means some necessary changes from previous years. While our finalists will be performing live as usual, it will be for the judges only and not for an invited audience.
The closing date for entries is Friday 11th September 2020 at 5pm.   The competition date and venue have not been finalised yet, but it will be in October 2020. Full details, including venue, rules, and the application form for downloading will be posted here in mid-August.
More details to follow in the coming weeks via our website, in the Journal of Music and other media, well as through direct communications with orchestras, music academies and secondary schools.
We wish any of your eligible students the very best of luck and in the meantime, if you have any queries, please contact Connie on 014900333 or cgf@topsecuirty.ie
---
The Frank Maher Classical Music Awards were established in 2001 and are sponsored by the Top Security Group to honour the late teacher at Castleknock College from 1959-1998.
The Award's aim is to promote musical life, assist cultural exchange and promote young and talented musicians. The Winner's bursary of €5,000 (Five Thousand Euros) is one of the largest classical music awards in Ireland and has been a jewel in Ireland's classical cultural crown for many years. From the outset, exceptional and highly talented young musicians have performed each year to invited audiences in a bid to win this award.
Past winners have used their bursary to attend many of the world's most prominent music Academies such as Julliard School New York, Barenboim-Said Akademie in Berlin, Royal College of Music in London, Shenandoah University, Virginia, U.S.A., Conservatoire Nationale Superieur de Musique et de Danse Paris, Kronberg Academy Germany, Meadows School of the Arts, Dallas, Texas, RAM London to name but a few.
Competition 
The Competition is open to sixth year students attending any Post Primary School nationwide. From the applications received an independent Board of Adjudicators will decide and select the Finalists to attend and perform in front of an invited audience. The closing date for entries is Friday 11th September 2020 at 5pm. Application forms will be available for download on this website in mid August.
Date and Venue
TBC
Bursary
A Bursary of €5,000 (Five Thousand Euro) will be awarded to the Winner.
A Bursary of €300 (Three Hundred Euros) will be awarded to each of the other Finalists.